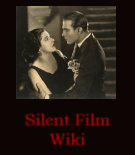 Silent FIlm Wiki is a wiki "for everything related to Silent Films and Silent Actors." It is hosted by Wikia (formerly known as Wikicities), which runs on MediaWiki software. This format allows visitors to add, remove, or otherwise edit and change the available content. Silent Film Wiki works as a fan community on the collaborative project of creating in-depth encyclopedic articles.
The wiki's database currently contains 212 encyclopedic articles (which does not include wiki discussions, project pages and redirects). The best of these entries have been voted on by the community and dubbed Quality Articles. Other topics of particular interest have been featured on the main page as what's happening Today on Silent Film Wiki.
Silent Film Wiki was founded on March 21, 2008. The wiki was established by The Ginger One. She serves as administrator. The logo was designed by The Ginger One and based on a screen shot from a Rudolph Valentino film.
The goal of Silent Film Wiki and its contributors is to build a database of articles related to Silent Films and Silent film actors careers. Through the research of published works and various media content, the database is meant to serve as a comprehensive source of reference and knowledge. An accurate account of works cited is provided when possible (by way of footnotes and adherance to other policies), and particular attention is given to verifiability. Special care is taken with disputed or erroneous information, and in some cases may result in a settlement in the form of a rumor disclaimer.
Although the name of the site is Silent Film Wiki, the encyclopedia extends to areas outside of what may be publicly perceived as "Silent Film" content in some cases. Beyond films this wiki includes the biographies, works, and details of silent film actors. In addition to this anything about silent films is allowed; from the crew (directors, cinematographers, scenarists, etc) to the actors personal lives (ex: Douglas Fairbanks married Anna Beth Sully who was not a silent film actress). For example one could write an article on Rudolph Valentino (actor), Natacha Rambova (his wife, costumer), June Mathis (his scenarist), Rex Ingram (director), The Sheik (his film), Daydreams (a book of poems he wrote), Falcon Lair (his mansion), Kashmiri Love Song (a recording he made).
Silent Film Wiki Main Page