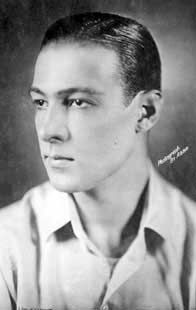 Rudolph Valentino (May 6, 1895 – August 23, 1926) was an silent film actor, sex symbol, and early pop icon.
He was known as 'the Latin Lover'. Valentino was one of the most popular stars of the 1920s and is one of the best remembered stars from the silent movie era. [1] Some of his best known roles are The Sheik and The Four Horsemen of the Apocalypse. Towards the end of his career he tried to take on more serious roles, wanting to be known more for his acting, rather than as just the 'The Latin Lover'.[2] His untimely death at age 31 propelled him into icon status with over 100,000 people attempting to attend his funeral. After his death his legend lived on via devoted fans and pilgrimages to his burial site. He was one of the first celebrities to experience this kind of lasting fame, which Marilyn Monroe and Elvis Presley enjoyed as well.[3]
Early years
[
]
Valentino was born Rodolfo Alfonso Raffaello Piero Filiberto Guglielmi in Castellaneta, Italy, to Marie Berthe Gabrielle Barbin (1856 - 1919), who was French, and Giovanni Antonio Giuseppe Fidele Guglielmi (1853-1906), a veterinarian from Castellaneta, Taranto, Italy. He had an older brother, Alberto (1892-1981), a younger sister, Maria, and an older sister Beatrice who died in infancy.[4]
As a child, Valentino was spoiled and troublesome. His mother coddled him while his father disapproved of his behavior.[4] He did poorly in school and constantly had to transfer to avoid being failed. He mainly did poorly because he would skip class or not pay attention. His mother eventually enrolled him in an agricultural school where he received a degree.[4]
In 1912, he left for Paris where he spent less than a year before losing his money and asking his mother to send him funds to return to Italy. When he returned to Italy he was unable to secure employment and everyone was sure he would never succeed in life. His uncles decided he should be sent to the United States where they felt he could learn to be a man.[4]
New York
[
]
In 1913, Valentino left for New York City. He arrived with about $2,000 which he promptly wasted. [4] After a period on the streets [4], he eventually supported himself with odd jobs such as busing tables in restaurants, even trying his hand at gardening. Eventually he found work as a taxi dancer and instructor, and later as an exhibition dancer which was the craze at the time.[4] He gained attention for his rendition of the Argentine tango. Several rumors have been taken from this time in his life; including that he worked as a gigolo and was a petty thief. Though neither of these has ever been proven, they persist in certain biopics.[4]
Valentino enjoyed befriending many people of high society. He eventually befriended Chilean heiress Blanca de Saulles who was unhappily married to prominent business man John de Saulles with whom she had a son. Whether the two actually had a romantic relationship is unknown, but Rudolph was quite smitten with her. Eventually the de Saulles divorced in a sensational divorce trial. Valentino decided to take the stand to support Blanca's claim of John's well known infidelity. Mr. de Saulle was not pleased with this and once the divorce was granted, he used his political connections to have Valentino arrested along with a Mrs. Thyme who was a known "madam" on vice charges (the exact charges are unknown). The evidence was flimsy at best (Valentino having been near the wrong place at the wrong time) and after a few days in jail, Valentino's bail was lowered from $10,000 to $1,500. [4]
The scandal was well publicized along with the trial and Valentino felt degraded. No one would hire him and his old friends would no longer talk to him. Blanca seemed to not even thank him for his testimony. Shortly after the trial, Blanca fatally shot her ex-husband over claims of custody of their son. Another sensational trial began, with her being acquitted of murder charges, and Rudolph's name was again dragged through the mud though he had nothing to do with Blanca by this point.
He changed his name from Rodolfo Guglielmi to several variations of 'Rudolph Valentino', partly to avoid association with the earlier scandal and partly because Americans had trouble pronouncing Guglielmi. After the trial, he decided to move to Hollywood. [4]
Hollywood
[
]
Start in Film
[
]
In 1917 Valentino joined an operetta company that traveled to Utah where it disbanded. From there he traveled to Los Angeles with an Al Jolson production of "Robinison Crusoe Jr". By the fall he ended up in San Francisco where he had a bit part in a theatrical production of Nobody Home. The show garnered good reviews but did not profit due to World War 1.[4] While in town Valentino met actor Norman Kerry, who convinced him to try a career in cinema, still in the silent film era.[4]
Valentino, with Kerry as a roommate, moved back to Los Angeles and took up residence at the Alexandria Hotel. He continued dancing though whispers of his past began to materialize.[4] He built up quite a following; including older female clientele who would let him borrow their luxury cars.[4]
With his dancing success Valentino found a room of his own on Sunset Blvd and began seeking screen roles more actively. His first part was as an extra in the film Alimony.[4]
The more he danced, the more he wanted to act. On one sheet for Universal Studios asking 'Why did you take up Motion Pictures?' Valentino wrote, 'Tired of ballroom dancing.' [5] He began to play small parts in several films. Despite his best efforts he was typically cast as a "heavy" (villain) or "gangster". [6]At the time, the epitome of male masculinity was Douglas Fairbanks: fair complexion, light eyes, and an All American look. A leading man should never be too romantic (Fairbanks hated doing love scenes and rarely did them, let alone well.[7] ) Thus Valentino was the opposite and seemed "exotic". [8]
By 1919, he had carved out a career in bit parts. It was a bit part as a "cabaret parasite" in the drama The Eyes of Youth that caught the attention of the powerful screenwriter June Mathis who thought he would be perfect for her next movie.[9].
Stardom
[
]
Displeased with playing 'heavies' Valentino briefly entertained the idea of returning to New York permanently. He returned for a visit in 1917 staying with friends in Greenwich Village. It was here he met Paul Ivano; someone who would help his career greatly.[10]
Valentino traveled to Palm Springs, Florida to film "Stolen Moments". During his traveling Valentino had read the novel The Four Horsemen of the Apocalypse by Vicente Blasco Ibáñez.[11]
Seeking out a trade paper Valentino found Metro had bought the film rights to the story. In New York he sought out Metro's Office; only to find June Mathis had been trying to find him.[12] She cast him in the lead as Julio Desnoyers. Many people opposed her choice but she had been set on it.[13] For director Mathis had chosen Rex Ingram, with whom Valentino did not get along. Mathis found herself playing the role of peace keeper between the two.[14]
The Four Horsemen of the Apocalypse, was released in 1921, becoming a commercial and critical success (being one of the first film to make $1,000,000 at the box office, as well as the 6th best selling silent film ever[15] )[16]. The film made Valentino a sensation, earning him the nickname "Tango Legs" in honor of the famous Tango number he performed in the film.[16] [17]
Metro Pictures seemed unwilling to acknowledge it had made a star. Most likely due to Rex Ingram's lack of faith in him[18], the studio refused to give him a raise beyond the $350 a week he had made for Four Horsemen. To add insult to injury, for his follow up film they forced him into bit part in a B Movie called "Uncharted Seas". This would be the film he met his second wife, Natacha Rambova on.[19]. Natacha Rambova (1897-1966), has a very extensive early American family history.
Along with Rambova, Mathis, and Ivano, Valentino set to work on the Alla Nazimova film Camille. Valentino was in the role of Armand, Nazimova's love interest. The film was mostly under Rambova and Nazimova's control; and was considered too avant garde by critics and the public.[20]
Valentino's final film for Metro would be the Mathis penned, The Conquering Power. Ingram still found him 'not star worthy' and believed Valentino had a swollen ego from Four Horsemen. The film won critical acclaim and did well at the box office.[21]
After the films release Valentino made a trip to New York where he met with several French producers. Yearning for Europe, better pay, and more respect, Valentino returned and promptly quit Metro.[22] Both Rambova and Ivano thought this a bad choice; hindering his making of artistic styled films.[23]
The Sheik
[
]
After quitting Metro, Valentino took up with Famous Players-Lasky, a studio which made more commercial films. Mathis soon joined him. Both Ivano and Rambova were only told of the contract after the fact; and exploded with anger feeling it a bad deal.[24]
Despite the possibly bad deal; Jesse Lasky intended to capitalize on the star of Valentino. He told his secretary to be on the lookout for parts that would suit a 'Latin Lover'. She told him he already had one, "The Sheik". Valentino was given the starring role as Sheik Ahmed Ben Hassan. The film was a major success and would go on to define not only his career but his image and legacy.[25] Valentino tried his best to distant the character from a stereotypical portrayal of an Arab man. Asked if Lady Diana (his love interest) would have fallen for a 'savage' in real life Valentino replied, "People are not savages because they have dark skins. The Arabian civilization is one of the oldest in the world...the Arabs are dignified and keen brained."[26]
Excited with the blockbuster hit, Famous Players put out 4 more feature length films in 15 months. Surprisingly they even gave him a leading man role of the Douglas Fairbanks nature, with Moran of Lady Letty.[27] However his exotic-ness being bankable; his character was given a Spanish name and 'Spanish ancestors'.[28] The film was given mixed reviews; but was still a hit with audiences.[29]
In November of 1921 Valentino was set to star alongside Gloria Swanson. The filming of, "Beyond the Rocks" was documented by the press in great detail. The film contained extravagant costumes; though Photoplay felt the sets were cheap. The film was released in 1922 and again did well with audiences.[30]
In 1922 Valentino began work on another Mathis penned film, Blood and Sand. It co-starred Lila Lee and Nita Naldi. Valentino played the lead, Juan Gallardo. Valentino took the role seriously; staying in character even when not filming.[31] Lasky had promised to shoot the film in Spain but did not follow through.[32] Filming in Hollywood meant that Valentino could not be filmed with live bulls; again against his will. Some critics found those particular scenes cheap looking.[33] After finishing the film Valentino married Rambova, which led to a bigamy trial. The trial was a sensation and the pair was forced to annual and separate for a year. Despite the trial the film was still a success, with critics calling it a masterpiece on par with Broken Blossoms and Four Horsemen.[34] Blood and Sand went on to become one of the top 4 grossing movies of 1922, breaking attendance records, and grossing $37,400 at the Rivoli Theatre alone.[35] Valentino would consider this one of his best films.[36]
During his forced break from Rambova; the pair began working (separately) on the Mathis penned, The Young Rajah. Unfortunately most of this film is now lost except for fragments recovered in 2005.[37] The film did not live up to expectations and underperformed at the box office. Valentino felt he had underperformed in the film; being upset over his separation with Rambova. Many friends noted him as depressed during this time.[38]
Missing Rambova deeply, Valentino returned to New York after the release of The Young Rajah. They were spotted and followed by reporters constantly.[39] During this time Valentino began to contemplate not returning to Famous Players. Jesse Lasky had already had his next picture set up, The Spanish Cavalier.[40] After speaking with Rambova and his lawyer Arthur Butler Graham; Valentino acted on his outrage and declared a 'One man Strike' against Famous Players.[41]
Strike from Famous Players
[
]
Valentino's reasons for the strike were obvious. He had been roped into a bad contract by Lasky who told him his paltry numbers ($1,250 at the time of the suit; $3,000 only after 3 years at the studio; still $7,000 less then what Mary Pickford made in 1916, or $2,000 less then Sessue Hayakawa in 1915) were 'not set in stone' and 'could go up drastically'. However this was not in writing and Lasky never fulfilled his verbal promise.[42] He was also upset over the broken promise of filming Blood and Sand in Spain, and the failure to shoot the next proposed film in either Spain or at least New York.[43] Valentino had hoped while filming in Europe he could see his family; whom he hadn't seen in 10 years.[44]
In September 1922 Valentino announced he would no longer accept paychecks from Famous Players until the dispute was solved; though he owed them money he had spent to pay off Jean Acker. The next morning the headline, "TOREADOR RODOLPHO WAILS OVER NEW TROUBLE; HERO OF FLAPPERS PLANS SUIT AGAINST LASKY". Angered, Famous Players in turn filed suit against him.[45]
Valentino did not back down and on his lawyers advice wrote down all his grievances.[46] Famous Players realizing how much they stood to loose, and already in trouble after shelving Fatty Arbuckle pictures, tried to settle with him last minute by upping his $1,250 to $7,000 a week. Variety erroneously announced it as a 'new contract' before news of the lawsuit broke. Valentino, ever prideful, threw the offer back in their face.[47] He took all his business relationships personally and after such betrayal no longer wished to work with the company.[48]
Valentino claimed artistic control was at the heart of the matter; not so much the money. He wrote an open letter to Photoplay entitled, "Open Letter to the American Public" where he argued his case.[49]
The average American had trouble sympathizing; as the average salary of the time was $2,000 a year.[50] Famous Players made their own public statements deeming him more trouble then he was worth (the divorce, bigamy trials, debts) and that he was temperamental; almost diva like. They claimed to have done all they could and that they had made him a real star.[51] Knowing he was worth a lot of money to the company; they decided to try and do their best to hold him to the contract.
Many studios had begun courting Valentino. Joseph Schenck was interested in casting him opposite his wife Norma Talmadge in a version of Romeo and Juliet.[52] Mathis had moved to Goldwyn Pictures where she was in charge of the Ben-Hur project.[53] Along with the company's new president she was interested in casting Valentino for the film; which would be shot in Italy. However Famous Players exercised their 'option to extend contract' which meant that unless he worked with them, Valentino could not perform as an actor in any form or way or basically work for a living until February 7, 1924.[54] Valentino filed an appeal.
By this point Valentino owed around $80,000 in debt.[55] Though Rambova was working they would obviously not be able to maintain the lifestyle they were accustomed to if Valentino was not allowed to perform. Joe Goldsol gave them a loan; which they were quickly able to repay.[56]
In January 1923 a portion of Valentino's appeal was granted. He was still not allowed to work as an actor; but the other clause about not being able to work at all was removed.[57]
Daydreams and Writings
[
]
One of Valentino's first project was a book of poetry which he released in 1923. Titled, "Daydreams" it became a best seller and helped him get back on his feet.[58]
He would later serialize events with various magazines. With Liberty Magazine he did a series titled, "How you can keep fit" in 1923. "My Life story" was serialized in Photoplay during his dance tour. The March issue was one of the best selling ever for the magazine.[59] He followed that with "My Private Diary" serialized in Movie Weekly Magazine. Most of the serials were later published as books after his death.
Mineralava Dance Tour
[
]
Valentino met George Ullman in late 1922. He told Ullman how he wished to dance again during the strike. Ullman would soon become Valentino's manager. Ullman previously had worked with Mineralava Beauty Clay Company, convinced them that the Latin Lover would be perfect as a spokesman with his legions of female fans.[60]
Ullman conceived much of the tour himself. It would contain a local beauty pageant with the winner competing against the other winners to name an ultimate Beauty Queen with a chance at a movie contract. Valentino would make speeches promoting the beauty crème. At other interludes he would take the chance to blast Famous Players. [61]Valentino and Rambova would dance together in costume. Ballroom dancing had gone out of fashion for the new jazz dances; so there was concern as to how popular it would be. However each stop on the tour proved very successful[62]; the couple signed contracts for $7,500 a show plus 50% of the profits.[63]
His fans could not control themselves; mobbing him and trying to steal buttons and ties off his person.[64] Several women would faint especially if called to the stage.[65] Valentino wished to be one on one with his fans but found there actions frightening (as they would usually endanger him and his wife's safety), as well as confusing (he felt they were after his image; not him).[66]
Overall the tour ran for 88 performances all over the US. The final event was held at Madison Square Garden and was filmed by David O. Selznick titled, "Valentino and his 88 American Beauties" which is found on some DVD release. His fans had enjoyed it; but the same journalists continued to denounce him.[67]
European Trip
[
]
On May 14, 1923, while in New York City, Valentino made his only two vocal recordings. "Kashmiri Song" (The Sheik) and "El Relicario" (Blood and Sand). Valentino apparently found them unimpressive and for whatever reason they were not release until after his death. Both can be found on various CD sets as well.[68]
Eventually homesick; and wanting his siblings to see his new bride, Valentino considered a trip back to Italy.[69] Unlike other stars Valentino's movies had barely played overseas; his family had never seen him in a picture.[70]
Wishing to improve his prospects in Europe; Valentino began a new publicity campaign. He teamed up with Movie Weekly to serialize his writings, "My own story of my trip abroad." In addition he planned and did indeed film parts of his trip. He hoped to show them documentary style in theatres; though this never occurred. They have however appeared on DVD.[71]
The Valentinos' first stopped in London, then Paris. They stayed in France till September 1923. During their stay they had visited several towns and caught up with friends and family as well as shopped.[72] After a week at Rambova's Aunt's home they borrowed a Voisin and drove off to Italy.[73]
Upon entering Italy the guards insisted on a 600 French cigarette 'duty' (bribe).[74] Rambova grew weary of the traveling and neither she nor Valentino were used to the anonymity they received as his films had not been played in Italy.[75] Valentino achieved as he wished: he seen his sister and his brother; and was able to arrange a screening of one of his films them.[76]
Return to Pictures
[
]
There was talk of returning to film after his arrival back in the States. Ritz-Carlton Pictures (working through Famous Players) wanted to offer Valentino a dream deal: $7,500 a week, creative control, filming in New York.[77] It was for this deal he turned down an offer to film an Italian film, Quo Vadis in Italy.[78] Rambova herself (via power of attorney) negotiated the deal giving Valentino a 2 picture deal with Famous Players and 4 pictures for Ritz Carlton.[79] All parties accepted.[80]
The first film chosen under this deal was Monsieur Beaucaire. The Valentinos' found it an acceptable offer and Rambova was given creative control.[81] Valentino played the lead, Duke of Chatres. The film did poorly and did nothing to help Valentino's fight for masculinity as American audiences found it 'effeminate'.[82] Jesse Lasky would personally hold Rambova guilty for the choice though Famous Players had offered them the script, and Valentino surely had approved himself.[83] This film is often seen as 'proof' of Rambova's controlling nature; and would later be cause to bar her from Valentino's sets. This caused a rift in their marriage.[84]
Valentino made one final movie for Famous Players. In 1924 he starred in The Sainted Devil which is now one of his rare lost films. It had lavish costumes but apparently a week story.[85] It opened to strong sales but soon dropped off in attendance and ended up as another disappointment.[86]
Ritz Carlton Setbacks
[
]
With his contract fulfilled Valentino was released from Famous Players but still contracted by Ritz Carlton for 4 films.
The Valentinos' hoped to film Cobra however discovered that Ritz Carlton would not be able to finance the film as they wished. They were horrified to learn that Ritz Carlton had a distribution deal via Famous Players.[87] With a small budget they were forced to film in Hollywood, and no one involved in the production was happy with the final outcome.[88] Rambova herself admitted being too focused on The Hooded Falcon.[89] The film was shelved for several months before finally being released to a lukewarm reception.[90] Critics found it 'mundane' and some felt John Gilbert had finally taken Valentino's place as the lover of the screen.[91]
The couple tried to counter the negative buzz by appearing at high profile events; playing up their image as one of Hollywood's leading couples.[92]
After filming of Cobra, The Valentinos' headed back to Europe to gain inspiration for Valentino's 'pet project' film The Hooded Falcon. Nita Naldi was to play his love interest. The cast flew to France to be fitted for costumes.[93] After 3 months they headed back to the States where a sensation was caused by Valentino's new beard which he had grown for the film.[94] The crew and cast headed to Hollywood to begin preparations for the film but much of the budget was taken up during preparations.[95]
After the release of Sainted Devil Valentino held meetings with Mathis which led to rumors of another movie between the pair.[96] However not too long after their friendship was severed over Rambova's control. Mathis had been asked to work on The Hooded Falcon and was told her scenario would not do. She took it as a great insult and did not speak to Valentino for almost 2 years. The pair ended up not working together again during their lifetimes.[97]
The production now dragged on longer as they sorted out script issues; all the while paying personnel and draining the budget.[98] After a fight with the director; the film was postponed indefinitely and the Valentinos' headed for a vacation in Palm Springs.[99] While on vacation George Ullman called to tell them that the director had pulled the plug, $150,000 had already been spent, and Ritz Carlton was terminating their contract. Ullman felt it was for the better; concerned Valentino playing a Moor with a beard and dark skin would only further alienate him from his fans[100]
United Artists
[
]
Back when he filmed Monsieur Beaucaire both Charlie Chaplin and Douglas Fairbanks both spoke to him in private about joining with United Artists. Both were quieted by their lawyers until Valentino was free of his contract.[101]
It took until his time at Ritz Carlton was up for a contract to be negotiated between Valentino and United Artists. Valentino would be paid $10,000 a week, make 3 pictures a year, receive a percentage of the profits, and have a choice over leading lady. He would also be given 'prominence' right up with Mary Pickford, Douglas Fairbanks, and Charlie Chaplin.[102] However Rambova was to be excluded and not allowed on set. Valentino agonized over the decision but eventually felt he had no choice but to sign. Ullman felt bad and offered Rambova $30,000 to finance a film of her own. It became her one and only called What Price Beauty? and starred Myrna Loy.[103]
Valentino chose his first project, "The Eagle". His marriage was under strain and once shooting began Rambova announced they were on a separation.[104] After a very public send off she announced their troubles to reporters. Much publicity came from rumors that Valentino was dating his co-star Vilma Banky.[105] The film opened to good critical reviews but a moderate box office. It however performed better then his previous 3 films which was a good sign.[106]
For the film's release he headed to London where it was met with great fanfare. Valentino ended up staying in London as well as France; spending money with abandon while his divorce took place. By the time he returned to the states the divorce. It would be awhile before he made another picture; ironically his last would be The Song of the Sheik despite his hate of the sheik image.[107]
The film began shooting in February 1926. Though initially reluctant Valentino was given choice director and another pairing with Banky whom he enjoyed working with.[108] He was also able to use the authentic costumes he bought abroad and play a character role as the Father as well as the Son. Valentino was ill during production; but felt he needed to keep on to pay his many debts.[109] The film opened on July 8, 1926 to great fanfare; making about $32,000 a week. Its opening at the Million Dollar Theatre was a big success. During the premiere Valentino reconciled with Mathis; the two hadn't spoken in almost 2 years.[110]
Before his death Valentino had been slated to play in a film based on the life of Benvenuto Cellini which Banky would not be available for. There was talk of either Dolores Del Rio or Greta Garbo playing the love interest. However it was never filmed.[111]
Acting Style
[
]
Valentino had no formal training before taking up with a theatre group in New York. Fascinated with pictures he began to study acting. One agent named John Higgins loaned him a copy of Justin Hunley McCarthy's 'If I were King'. According to Higgins, Valentino lived the role and memorized the entire play.[112] It is also said that Alla Nazimova greatly influenced his acting style.[113]
Valentino was a method actor. For many of his roles Valentino would stay in character even while not filming (once refusing to speak anything but Italian as his character would; despite the crew not understanding a word of the language).[114] Valentino would later consider Blood and Sand one of his best films though he wished to have shot on location; with real bulls.[115]
Behind the Camera Ambitions
[
]
Valentino was fascinated with every part of movie making. During production on a Mae Murray film he sat and spent a good amount of time studying the directors plans.[116] He craved authenticity and wished to shoot on location.[117] Sadly he was not able to fulfill this dream usually due to the studios reluctance to finance such an extravagance. He did however film home movies of his trip to Italy.
In 1925 he formed his own production company, Rudolph Valentino Productions.[118] Valentino, George Ullman, and Beatrice Ullman were the incorporators.
The Rudolph Valentino Medal
[
]
Valentino was one of the first in Hollywood to arrange some type of award for artist accomplishment in films. The Academy Awards would later follow suite. In 1925 he gave out his one and only medal to John Barrymore for his performance in Beau Brummell. The award was named The Rudolph Valentino Medal.[119]
The requirements were Valentino and 2 judges; along with 75 critics would vote on who deserved the medal. Everyone but Valentino was eligible.[120]
Image and Icon
[
]
Valentino made an image for himself as an exotic, sexual, lover. He was the first actor to be referred to as a Latin Lover. With the release of The Sheik the term Sheik came to mean a sexual man (ironic that the original term for sheikh is usually used for religious men of Islam).
By 1922 a full Valentino craze was in effect.[121] He and Rambova were seen as fashion icons and their every move was copied. Slicked back hair, gaucho styled pants, and the Latin look were all in vogue after his films. Men with perfectly sleeked back hair were called 'Vaselinos'.[122]
The styles of dance Valentino did became crazes, as well as kissing a woman's hand unabashedly.[123]
Once wed to Rambova in 1923 the couple became even more of a sensation. They were seen as the 'exotic' version to 'Mary and Doug' (who were 'All American').[124] The couple purchased a home in 1924 at 2 Bella Drive, Beverly Hills. They called it Falcon Lair.[125] However they divorced soon after and it mainly became Valentino's bachelor pad before his death. The home stood until 2007 when it was demolished to make way for a newer home.
When Valentino grew a beard in 1924 for his never filmed, The Hooded Falcon it caused quite a stir. So much so that the 'The Associated Master Barbers of America' began threatening a Valentino boycott because they feared the male population would follow the new look.[126] The film never materialized and the beard was shaved.
Valentino promoted various items during his life. For the dance tour he ended up in ads promoting Mineralava beauty crème.[127] In his contract it had been stated the ads were to promote to women alone; though many made reference to the crème working 'just as good on men'. Valentino was not happy with this as it brought up more maligning by the press. [128]He also promoted cigars at one point. After his death the Sheik image appeared on a line of condoms for many years.
Insecurity with image
[
]
Ever since the de Saulle trial in New York when his masculinity had been slandered in print, Valentino had been very sensitive with the way he was perceived. Women loved him and thought him the epitome of romance. However, American men were very threatened and would walk out of his movies in disgust. With the Fairbanks type being the epitome of manhood, Valentino was seen as a threat to the All American man.[129] One man asked in a street interview what he thought of Valentino in 1922 replied, "Many men desire to be another Douglas Fairbanks. But Valentino? I wonder..."[130] Women in the same interview found Valentino, "Triumphantly seductive. Puts the love making of the average husband or sweetheart into discard as tame, flat, and unimpassioned."[131] However men may have wanted to act like Fairbanks; but they were copying Valentino's looks. A man with perfectly greased back hair was called a 'Vaselino'.[132]
Journalists were constantly call his masculinity into question: his greased back hair, his clothing, his treatment of women, his views on women, and whether he was effeminate or not. Valentino hated these stories and was known to carry the clippings of them around and criticize them. [4]
The Chicago Tribune reported in July, 1926 that a vending machine dispensing pink talcum powder had appeared in an upscale hotel washroom. An editorial that followed used the story to protest the feminization of American men, and blamed the talcum powder on Valentino and his sheik movies. The piece infuriated Valentino, who happened to be in Chicago at the time, and the actor challenged the writer to a duel and then a boxing match. Neither challenge was answered. Shortly afterward, Valentino met for dinner with the famed journalist H.L. Mencken for advice on how best to deal with the incident. Mencken advised Valentino to "let the dreadful farce roll along to exhaustion", but Valentino insisted the editorial was "infamous." Mencken found Valentino to be likable and gentlemanly and wrote sympathetically of him in an article published in the Baltimore Sun a week after Valentino's death:
Template:Cquote
After Valentino challenged the Tribune's anonymous writer to a boxing match, the New York Evening Journal boxing writer, Frank O'Neill, volunteered to fight in his place. Valentino won the bout which took place on the roof of New York's Ambassador Hotel. [133]
The 'Powder Puff' comment bothered Valentino so much that it was reported as he lay dying he asked the doctor, "Am I a powder puff now Doctor?". The doctor reportedly replied, "No sir, you've been very brave".
Racial Barriers
[
]
During his lifetime Valentino was not considered 'white'. Italians were seen as dark and 'Latin'; unable to be the Douglas Fairbanks type.[134] Before Valentino only one other non Caucasian male had found success as a leading man in American Silents: Sessue Hayakawa. Hayakawa found more barriers by being Japanese but much like Valentino he was regulated to playing the 'exotic lover' or 'foreign man out for revenge'.[135] Due to anti miscegenation laws Hayakawa was not allowed to kiss a non Asian woman on film. Valentino was lucky in escaping the same barrier; though when he did 'get the girl' he was somehow shown as white (such as in The Sheik).[136]
Like Hayakawa; Valentino fought such typecasting. Unlike Hayakawa, Valentino was much more successful even playing 'American' or 'Irish' men early in his career.[137] This was not lost on reviewers. For the film A Society Sensation a reviewer from Variety noted, "Rodolpho De Valentino makes a very American Dick Bradley despite the fact that he is a fairly recent arrival from Italy".[138]
After play 'The Sheik' Valentino was even given a 'white lover' role in Moran Lady of Letty. However he did not wish to play 'white'. He wanted to make the exotic men (Arabs, Indians, Italians) accepted the same as white.[139] One example of this would be with The Sheik. Valentino choose not to play the role stereotypically.[140]
Trouble with Finances
[
]
Through the years Valentino was often paid less then his counterparts; a problem both Hayakawa and Anna May Wong endured during their respective careers as well. For Four Horsemen of the Apocalypse Valentino made $350 a week; much less then some fellow bit players.[141] The film grossed over $1 million.
Valentino was not a fan of the business side of things. In his open letter during his strike he made the statement, "I am not a good business man."[142] He alone signed a contract with Famous Players-Lasky which would only give him $500 a week for up to a year and a two picture deal. Both Ivano and Rambova felt Valentino had undersold himself possibly by millions (Sessue Hayakawa had made $5,000 a week in 1915, Mary Pickford made double that).[143] Valentino would later claim he did not have a mind for business affairs; did not understand things in the contract; and should have consulted someone before signing it. [144] After the success of The Sheik his salary was bumped up to $700 a week.[145] 5 films later he was making $1,250 a week.[146]
Eventually Valentino got frustrated enough that he waged a public war with Famous Players. At one point they offered him $7,000 a week. He however turned it down. His best studio deal was with United Artists for $10,000 a week in 1925.
Besides making a smaller salary than he was worth; Valentino was racked with debt most of his acting life. He would make extravagant purchases that he could not afford on his salary.[147] His 'buying off' Jean Acker also left him in debt during his strike with Famous Players. [148]This would eventually lead to problems after his death when most of his estate had to be auctioned off to be out of debt.
Personal life
[
]
Valentino was a polyglot. He fluently spoke English, Spanish, Italian, and French which his mother had taught him.[4]
Throughout his life, Valentino had a love of animals. He was an accomplished rider since boyhood, and owned several horses. He and Rambova spoke of opening a zoo and socialized with animal trainers. They had two Great Danes, a large gopher snake, and a green monkey. From their trainer friend, Rambova purchased a lion cub named Zela for Rudolph. Rudolph loved Zela but eventually had to give her to a trainer outside of town when she bit a stranger who happened to be a private eye hired by Jean Acker to prove the couple was cohabiting.[149]
Valentino also loved to cook, especially simple dishes like spaghetti and meatballs. According to friends, his love of cooking was more intense than his romantic life.[150]
Mary Pickford had briefly met Valentino during his days in New York when via her mother he asked for her advice on getting into pictures. Pickford had found him handsome but her mother did not introduce her. By the time Valentino was a star Pickford's then husband Douglas Fairbanks was quite jealous of the Latin lover. Once Valentino tried to visit Pickfair and according to Pickford, Fairbanks had never been ruder then showing Valentino he was not welcome. [151] However the two men eventually settled their differences and became mutual friends; attending each others premieres.[152]
Valentino was an opera fan.[153] He himself played guitar as heard on his recordings. He was also a fan of Al Jolson, whose production company he had first traveled with to Los Angeles.[154]
Valentino also had small friendships with both Charlie Chaplin[155], D.W. Griffith [156], Mae Murray (whom he know from New York), Lillian Gish and Dorothy Gish.[157]
Valentino was also a friend and champion of Fatty Arbuckle. Between Arbuckle's two trials for manslaughter Valentino appeared alongside him in a comic short, Character Studies.[158] The two remained friends and would play poker together.[159]
Family
[
]
Valentino's father died in 1906. His father had been a serious and studious type. Valentino always felt he had disappointed his father by not following in his footsteps as a veterinarian.[4] Valentino was extremely close with his mother who constantly spoiled him. When he was in trouble she would bail him out; and he seemed to idolize her.[4] Maria died in 1918, shortly after the release of 'The Married Virgin'. His mother's passing was extremely hard on him [4] He had not seen her in 4 years and isolated himself in grieving for a period after her passing.[4]
Many feel he took on June Mathis as a sort of surrogate mother later on[4] Valentino adored Mathis, whom he referred to as 'Little Mother'.[160] Mathis single handedly did more than anyone for Valentino's career; including directing him on his first films and moving to the same film companies he did.[161] They ended their friendship when Mathis found Rambova too controlling. However they reconciled at the premiere of 'Son of the Sheik' shortly before his death. While he was ill Mathis encouraged him to seek a doctor much to his protest. It was eventually Mathis who would lend him her crypt.
Valentino was closest with his sister Maria. As children they got along better then he did with his brother Alberto who was more serious like their father. During the 11 years between visits Valentino kept in constant contact via letters with Maria.[162]
However after his trip back to Italy he grew close to Alberto as well. Alberto and his family stayed with Valentino for periods of time in LA. Valentino was extremely fond of his nephew Jean whom he first met in Italy[163]. When Valentino died Alberto helped make arrangements, and tried to help sort out his estate. For a time Alberto considered trying to make pictures himself; but eventually did not though his family remained in California.
Relationships and marriages
[
]
In 1919, as his career had yet to take off, Valentino married Jean Acker. Acker was a bit actress who was mainly cast as a favor to her lesbian lover Alla Nazimova. The three had become friends and Valentino appeared to be oblivious to Acker's orientation. Acker was caught in a love triangle with Grace Darmond and Nazimova; both of whom threatened to destroy her career if she left either of them. Seeing a chance to escape unscathed, Acker married Valentino.[164]
The marriage was never consummated, with Jean locking him out of their hotel suite on their first honeymoon night. She later fled to Darmond's where Valentino pleaded with her to give him a chance to no avail. Instead of divorcing, the couple remained legally married until 1921, when he filed for divorce so he could marry Natacha Rambova.
At the time, the divorce trial was caused a sensation due to Valentino's new star status. Valentino found it embarrassing to have to charge desertion and Acker's refusal to consummate the marriage. The divorce was granted with a decent alimony going to Acker. Despite her antics and use of the name "Mrs. Valentino" (a name she had no legal right to), she and Valentino eventually renewed their friendship until his death. She made regular visits when he was on his death bed and was reportedly one of the last people he saw just before he died.
Valentino first met Natacha Rambova, a costume designer and art director who was a protégé of Nazimova, on the set of Uncharted Seas in 1921. The two also worked together on the Nazimova production of Camille, by which time they were romantically involved. They married on May 13, 1922, in Mexicali, Mexico. This resulted in Valentino being jailed for bigamy since he had not been divorced for a full year (which was the law in California at the time). He spent the night crying that Natacha was his legal wife and he should not be there. Days passed and his studio at the time, Famous Players-Lasky, refused to post bail. Eventually, a few friends including Thomas Meighan and June Mathis were able to post the cash bail.[165]
Still having to wait the year or face the possibility of being arrested again, Natacha and Valentino lived in separate apartments in New York City, each with their own roommates. On March 14, 1923, they legally remarried.[166]
Many of Rudolph's friends did not like Rambova and found her controlling.[167] During his relationship with her, he lost many friends and business associates including June Mathis. Toward the end of their marriage, Rambova was banned from his sets by contract. One of the few people who supported her was a then-unknown actress named Myrna Loy, whom she had discovered and had cast in the film What Price Beauty? She said that Rambova was unfairly criticized. The end of the marriage was bitter, with Valentino bequeathing her one dollar in his will. The money and property he originally intended for her instead went to her Aunt Teresa whom they both adored. Despite popular rumors, Natacha was not a lesbian. She and Valentino had an active sexual life, attested to by many friends. Paul Ivano (their roommate through much of their dating) stated that one night, Valentino ran out in a panic thinking he had killed her during an all night session of love making; when in fact she had just passed out and was revived with cold water by Ivano. [168]
Valentino's sexuality has been the subject of much speculation over the years. It has been suggested he was in homosexual relationships with his roommates Paul Ivano and Douglas Gerrad; as well as Norman Kerry, openly gay French actor Jacques Herbertot and Andre Daven.[4] However, Ivano maintained that it was completely untrue and he himself as well as Valentino were heterosexual.[169] Herbertot's claims seem to be strictly fantasies (as no real proof backs them up)[170] and Kerry, Daven and Gerrad were just friends.[4] No real evidence exists to show Valentino had any romantic male relationships.[171]Many of the rumors seem to stem from the company he kept; as many in his circle of friends were well known to have loose attitudes towards sexual experimentation.
Shortly before his death, Valentino was dating Pola Negri. The relationship seemed to be to save his "great lover" reputation since his divorce from Rambova. Upon his death, Negri made a scene at his funeral, claiming they had been engaged. The engagement claim has never been proven. Many of Valentino's friends claimed that he had never gotten over the divorce from Rambova.
Valentino had no children though he did desperately want them (especially evident in his poem Babies). He dreamed of having the traditional wife and mother, though he dated women who were quite the opposite (Acker and Rambova being feminists with careers). One of the biggest issues of his and Rambova's marriage was her desire not to have children. Nita Naldi a close friend, claimed Rambova illegally terminated up to three pregnancies while married to Valentino, though there is no way to verify this. Whether Naldi's story is true or not, Rambova was determined to remain childless.[172]
Religion
[
]
Valentino was raised Catholic. However he wasn't thrilled with it much to his mother's concern.[173] However once with Rambova he began to take on spiritualist beliefs and did declare himself a spiritualist.[174] He was a big believer in automatic writing, mirror writing, and spirit guides (his was an Indian named Blackfeather)[175]. He attended séances, used Ouija boards, and seen fortune tellers though he claimed it was more for fun then for serious.[176] Many of his poems from his book Daydreams are seen to have occult origins.[177]
Death and funeral
[
]
On August 15, 1926, Valentino collapsed at the Hotel Ambassador in New York City. He was hospitalized at the Polyclinic in New York and underwent surgery for a perforated ulcer. He told his manager George Ullman to contact Rambova, who was in Europe. Upon hearing of his condition, she responded back, and they exchanged loving telegrams, and she believed a reconciliation had taken place. The surgery went well and he seemed to be recovering when peritonitis set in and spread throughout his body. He died eight days later, at the age of 31.
An estimated 100,000 people lined the streets of New York City to pay their respects at his funeral, handled by the Frank Campbell Funeral Home. The event was a drama itself: actress Pola Negri collapsed in hysterics while standing over the coffin, windows were smashed as fans tried to get in, and Campbell's hired four actors to impersonate a Fascist Blackshirt honor guard, which claimed to have been sent by Benito Mussolini. It was later revealed as a planned publicity stunt. The New York Graphic printed a ghoulish fake composed photograph on its front cover purporting to show Valentino in his casket, before the body actually reached the funeral home.
Valentino's funeral mass in New York was celebrated at Saint Malachy's Roman Catholic Church, often called "The Actor's Chapel", as it is located on West 49th Street in the Broadway theater district, and has a long association with show business figures.
After the body was taken by train across the country, a second funeral was held on the West Coast, at the Catholic Church of the Good Shepherd in Beverly Hills. Not having a resting place of his own, Valentino's old friend June Mathis offered her crypt for him in what she thought would be a temporary solution. However, she died the following year and Valentino was placed in the adjoining crypt. The two are still interred side by side in adjoining crypts at the Hollywood Memorial Park Cemetery (now the Hollywood Forever Cemetery) in Hollywood, California.
Estate
[
]
Valentino left his estate to his brother, sister, and Rambova's Aunt Teresa Werner. Originally Werner's share had been bequeathed to Rambova; however after the divorce a change was made to leave her only $1. He was around $100,000 in debt at the time of his death. Ullman organized an auction of his possessions and home to pay the debts.
His Beverly Hills mansion, called Falcon Lair, was later owned by heiress Doris Duke until her death there in 1993. The building was then stripped down to the frame and resold. The remaining structure stood until late 2007 when it was demolished to make way for a newer home.
Legacy
[
]
After his death many of his films were reissued to help pay his estate. Many were reissued well into the 1930s (long after the demise of silent film) with several cuts made for the new Hays Code. Several books were written including one by Rambova. Several songs including one by Acker entitled 'There's a new star in heaven tonight' were written and best sellers.
Over the years a Woman in Black carrying a red rose has come to mourn at Valentino's grave usually on the anniversary of his death. Several myths surround the woman though it seems the first woman in black was actually a publicity stunt cooked up by press agent Russel Birdwell in 1928. Several copycats have followed over the years.[178]
Valentino's image as a great lover has lasted long past his death. In popular culture the term 'Valentino' has come to represent a good-looking ladies' man.[179] Several pop culture items have referenced Valentino over the years.
In

The Simpsons

episode "

Homer's Night Out

", Homer gets in trouble for a photo Bart took of him dancing with a

belly dancer

making him appear as a ladies' man. At work his boss

Montgomery Burns

berates him at one point calling him a Valentino.
Valentino has been referenced in many pop songs, including "Right Before My Eyes" by

Ian Thomas

, "

Manic Monday

" by

The Bangles

, "Good Old-Fashioned Lover Boy" and "Seaside Rendezvous" by

Queen

, "Life Sized Marilyn Monroe" (1993) by

Wild Strawberries

, "Celluloid Heroes" by

The Kinks

, and "Better Off Without a Wife" by

Tom Waits

.

The Auteurs

song 'Lenny Valentino' is named after a character who is a fusion of Valentino and

Lenny Bruce

.
The song "

Long Black Veil

" is partly inspired by the mysterious veiled woman who regularly visited his grave.
In 1979 the writers of the Mexican film Muñecas de medianoche mentioned that Gina, the main female character of the film (played by

Sasha Montenegro

) has been in love with Rudolph Valentino since she was 14 years old. Towards the film's end, the hero of the film Raphael (

Jorge Rivero

) comes into Gina's bedroom dressed up as Valentino in

A Sainted Devil

; he makes love to Gina who still thinks that she is in a dream.
Rudolph's Bar-B-Qu has been a mainstay of

Minneapolis

eateries since 1973. Rudolph's is named after actor Rudolph Valentino.
Phil York recorded a CD of Valentino inspired songs entitled Rudolph Valentino: He Sings & Others Sing About Him. All songs were taken from sheet music from the 1920s (including Valentino's two recordings) and rerecorded for the album. In his day Valentino had several songs written about him including "If I had a Man like Valentino" (1922), "That Night in Araby" (1926), "

Sheik of Araby

", "The Man Behind the Eyes", and "Rudolph Valentango".
Films about Valentino
[
]
The life of Rudolph Valentino has been filmed a number of times for television and the big screen. The most notable of these biopics is Ken Russell's 1977 film, Valentino, in which Valentino is portrayed by Rudolf Nureyev. The film itself is only loosely based on his life; taking creative license with several important parts of his life. An earlier feature film about Valentino's life, also called Valentino, was released in 1951 and starred Anthony Dexter as Valentino.[180] That film also took several creative licenses with his life. The short film "Daydreams of Rudolph Valentino", with Russian actor Vladislav Kozlov as Valentino, was presented at Hollywood Forever cemetery on August 23, 2006, marking the 80th anniversary of Rudolph Valentino's death.
Quotations
[
]
"Women are not in love with me but with the picture of me on the screen. I am merely the canvas on which women paint their dreams."
Discography
[
]
Kashmiri Song

(in English)
El Relicario (in Spanish)
Bibliography
[
]
Daydreams (book of poetry, 1923)
How You Can Keep Fit (originally serialized in Liberty Magazine, 1923)
My Private Diary (originally serialized in Movie Weekly Magazine, 1929)
Filmography
[
]
Template:Col-break
My Official Wife (1914)
The Quest of Life (1916)
The Foolish Virgin (1916) (uncredited)
Seventeen (Uncredited, 1916)
Alimony (1917)
A Society Sensation (1918)

All Night

(1918)

The Married Virgin

aka Frivolous Wives (1918)

The Delicious Little Devil

(1919)
The Big Little Person (1919)
A Rogue's Romance (1919)
The Homebreaker (1919)
Out of Luck (1919)
Virtuous Sinners (1919)
The Fog (1919)
Nobody Home (1919)
The Eyes of Youth (1919)

Stolen Moments

(1920)
An Adventuress (1920)
Template:Col-break
The Cheater (1920)
Passion's Playground (1920)

Once to Every Woman

(1920)
The Wonderful Chance (1920)

The Four Horsemen of the Apocalypse

(1921)
Uncharted Seas (1921)

The Conquering Power

(1921)

Camille

(1921)
The Sheik (1921)
Moran of the Lady Letty (1922)

Beyond the Rocks

(1922)

Blood and Sand

(1922)

The Young Rajah

(1922)

Monsieur Beaucaire

(1924)

A Sainted Devil

(1924)

Cobra

(1925)
The Eagle (1925)

The Son of the Sheik

(1926)
Valentino was also supposed to have acted, at the beginning of his career, in the following films:
The Battle of the Sexes (1914)
Other names by which Rudolph Valentino was known:
Rudolph DeValentino
M. De Valentina
M. Rodolfo De Valentina
M. Rodolpho De Valentina
R. De Valentina
Rodolfo di Valentina
Rudolpho De Valentina
Rudolpho di Valentina
Rudolpho Valentina
Rodolph Valentine
Rudolpho De Valentine
Rudolph Valentine
Rodolfo di Valentini
Rodolph Valentino
Rudi Valentino
Rudolfo Valentino
Rudolf Valentino
Rudolph Volantino
Selected coverage in the New York Times

[

]
New York Times; July 21, 1926. Rudolph Valentino arrived here yesterday from Chicago indignant at an editorial which appeared in The Chicago Tribune Sunday, entitled "Pink Powder Puffs," and vowing to return there next Monday or Tuesday to whip the man who wrote it.
New York Times; August 16, 1926. Rudolph Valentino, noted screen star, collapsed suddenly yesterday in his apartment at the Hotel Ambassador. Several hours later he underwent operations for a gastric ulcer and appendicitis.
New York Times; August 21, 1926. Rudolph Valentino, screen star, who is recovering at the Polyclinic Hospital from operations for appendicitis and gastric ulcer, felt so much better yesterday that he asked to be taken to his hotel. His request was promptly vetoed by the attending physicians, who told the patient that he would not be allowed to sit up in bed for several days.
New York Times; August 22, 1926. Rudolph Valentino, motion picture actor, who underwent a double operation for acute appendicitis and gastric ulcers at the Polyclinic Hospital last Sunday, took a turn for the worse yesterday. His surgeons found that he had developed pleurisy in the left chest. At 4 o'clock in the afternoon the patient's temperature rose to 104.2.
New York Times; August 23, 1926. The condition of Rudolph Valentino, motion picture actor, grew more critical yesterday, and the three doctors who have been attending him at the Polyclinic Hospital since he underwent a double operation for acute appendicitis and gastric ulcers called in a fourth.
New York Times; August 24, 1926. Rudolph Valentino, motion picture actor, died at 12:10, yesterday afternoon, at the Polyclinic Hospital where he had undergone a double operation for acute appendicitis and gastric ulcers on Aug. 15. He was thirty-one. His youthfulness and rugged constitution aided him in making a valiant fight even after his five doctors had given up hope.
New York Times; August 27, 1926. The public was barred yesterday from the bier of Rudolph Valentine, motion picture actor, because of the irreverence of the thousands who had filed past the coffin in the Campbell Funeral Church, Broadway and Sixty-sixth Street, on Tuesday and Wednesday.
New York Times; September 4, 1926. A letter from Dr. Harold E. Meeker, the surgeon who operated on and attended Rudolph Valentino during the illness preceding his death, to S. George Ullman, the dead actor's friend and manager, describing in technical detail the steps of diagnosis, operation and treatment, was made public last night by Dr. Sterling C. Wyman of 556 Crown Street, Brooklyn, Pola Negri's physician.
New York Times; September 9, 1926.

Los Angeles, California

; September 8, 1926. Rudolph Valentino's will, disposing of property which may amount to more than $1,000,000, became public tonight, in advance of being offered for probate here tomorrow. The instrument provided a great surprise, evento lifetime confidants of the dead moving picture star, in that it shared the actor's estate in equal thirds among his brother, Alberto Guglielmi of Rome, who is ...
New York Times; September 10, 1926.

Los Angeles, California

; September 9, 1926. A contest over the "surprise" will of Rudolph Valentino was being considered tonight, it was admitted by Milton Cohen, Los Angeles attorney, who declared that he had been retained to represent Alberto and Maria Guglielmi, brother and sister of the screen star.
Further reading
[
]
The First Male Stars: Men of the Silent Era by David W. Menefee. Albany: Bear Manor Media, 2007.
Emily Leider (2003), Dark Lover: The Life and Death of Rudolph Valentino, (ISBN 0-374-28239-0).
References
[
]
External links
[
]