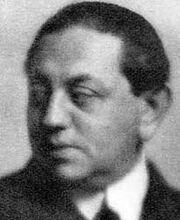 Paul Leni (July 8 1885, Stuttgart – September 2 1929, Los Angeles) born Paul Josef Levi was a German filmmaker and a key figure in German Expressionist filmmaking, making Backstairs (Hintertreppe, 1921) and Waxworks (1924) in Germany, and The Cat and the Canary (1927), The Chinese Parrot (1927), The Man Who Laughs (1928), and The Last Warning (1929) in the U.S.
Biography
Edit
Leni became an avant-garde painter at the age of 15, he studied at Berlin's Academy of Fine Arts, and subsequently worked as a theatrical set designer, working with prominent directors such as Max Reinhardt.
Around 1914 he became an art director in the German film industry. He later became a director of films such as Patience (1920), Backstairs (1921), and Waxworks (1924). He also made the unusual short animated films Rebus-Film Nr. 1, Nr. 2, and Nr. 3, which were filmed crossword puzzles.
In 1927, he moved to Hollywood to accept Carl Laemmle's invitation to become a director at Universal Studios. There Leni made a distinguished directorial debut with The Cat and the Canary (1927), an adaptation of John Willard's stage play. The film had a great influence over Universal's later classic "haunted house" horror series, and was subsequently remade several times, notably in 1939 with Bob Hope. The following year he directed the big budget The Man Who Laughs, one of the most visually stylized of late period silent films.
Paul Leni died of blood poisoning in Los Angeles on 2 September, 1929.
Filmography
Edit
German films
Edit
Das Tagebuch des Dr. Hart (1916)
Prinz Kuckuck (1919)
Patience (1920)
Backstairs (1921)
Waxworks (1924)
Rebus-Film Nr. 1 (1925)
Rebus-Film Nr. 2 (1925)
Rebus-Film Nr. 3 (1925)
Universal Studio films
Edit
External links
Edit