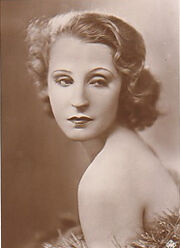 Brigitte Eva Gisela Schittenhelm (March 17, 1908, Berlin, Germany – June 11, 1996, Ascona, Switzerland) was a German actress, best remembered for her role as the dual role Maria and her double the Maschinenmensch in Fritz Lang's 1927 silent film, Metropolis.
After Metropolis, which was her second film, Helm made over 30 other films, including talking pictures, before retiring in 1936.
Her other appearances include The Love of Jeanne Ney (1927), Alraune (1928), L'Argent (1928), Gloria (1931), The Blue Danube (1932) and Gold (1934).
In 1935, angered by Nazi control of the German film industry, she moved to Switzerland where she later had 4 children with her second husband Dr. Hugo von Kuenheim, an industrialist. After her retirement from films she refused to grant any interviews concerning her film career. Helm was originally offered the title role in The Bride of Frankenstein, but she turned it down.
External links
Edit